05/02/2015
Tommy Thayer: The Epiphone Interview
Rock and Roll Dreams and the New White Lightning Les Paul
Tommy Thayer grew up in Beaverton, Oregon and like most kids, he quickly fell in love with rock and roll ("I went and saw literally every rock band that came to town"). But unlike most of us, Tommy grew up to join KISS and travel the world playing guitar. Tommy has been part of the Epiphone family since 2013 when he released his first signature instrument, the Ltd. Ed. Tommy Thayer "Spaceman" Les Paul. As we expected, the "Spaceman" quickly sold out. So, the arrival of Tommy's second signature Les Paul, the Ltd. Ed. "White Lightning," is certainly cause for celebration here at the House of Stathopoulo. "After many months of planning, I've come up with the ultimate Les Paul that is the true signature guitar for me," said Thayer on his website, "I've been blessed to have the opportunity to play this guitar on the biggest stages and largest venues in the world."
Epiphone caught up with Tommy on the eve of his new guitar and new tour with KISS who this year celebrated the 40th anniversary of their debut album.
-------------------------------
Since we last spoke with you, KISS was inducted into the Rock and Roll Hall of Fame. Congratulations!
Thanks. I think it's something that everyone in the KISS family is proud of. I know I am.
We're so excited to see your White Lightning Les Paul released. What kind of feedback did
you hear from fans about your first Epiphone Les Paul?
Two years ago we did the Tommy Thayer Ltd. Ed. "Spaceman" Les Paul. We put together a really great silver-sparkle-top guitar that was inspired by my Gibson Les Paul. The thing that blew me away was the quality and playability. Epiphone made 1,000 guitars and in 6 months they were all sold out. Fast-forward about two years and here we are with the 2015 Tommy Thayer Ltd. Ed. "White Lightning" Signature Les Paul. I think I really hit it on the head in terms of designing my signature guitar in the true sense. I'm really proud of this guitar.
Has the band given you any feedback about the White Lightning?
Actually KISS drummer Eric Singer, who is a real electric guitar aficionado, helped me with the look and aesthetic of the White Lightning. I got the prototype a month or two ago when we were in Las Vegas and brought it to sound check and the entire band gave it a big thumbs up. The reaction to this guitar has been overwhelmingly good.
Do you own vintage Les Pauls?
I probably have about 20 Les Pauls and three are from the early 70s--I guess they're considered vintage now. The one that's real special is a 1972 wine red Deluxe with routed-out full-size humbuckers. People did that a lot with Deluxes back then. I picked it up used in 1986 at a second-hand guitar shop in Hollywood called Guitars R Us for $375.
Back then, Jacksons and Charvels were all the rage and no one cared about Gibsons. I think by the time Guns N' Roses came out a year later that all changed again. I've been a tried and true Les Paul player ever since I started playing guitar. My first Les Paul was a Goldtop Deluxe I bought used in 1975 but I traded that for something else a long time ago. I'm still amazed at the quality and value of the Epiphones. I play my signature guitars onstage with KISS without missing a beat. Epiphone is a company with an amazing legacy and history. From Keith Richards and Jack Casady to George Harrison and John Lennon, many legends have made Epiphone their guitar.
It seems like KISS is going stronger than ever. After being in the business and in KISS for decades, how do you challenge yourself?
KISS has become an institution and a cultural phenomenon. In a lot of ways, rules never applied to KISS and it seems that becomes even truer through the years. We just recorded a song and filmed an amazing video with Japanese idol group Momoiro Clover Z. I don't know many other bands that could do something like that, but to us it's unique, fresh and different. It's still always a challenge to continue growing and retain the status as one of the world's greatest rock bands. No one rests on their laurels.
Gene Simmons and Paul Stanley have talked about one day retiring from KISS and handing the duties off to a new generation. What do you think of that idea? Do you see handing the "Spaceman" duties over at some point?
It's interesting to speculate on the possibilities. My outlook has always been KISS is different and the regular rules don't apply and never have. So why would that be any different now or in the future? I know it's hard to imagine KISS without either Gene or Paul, but you never know who could come along, take over and blow everyone away. The reality is it's already happened with half the band and KISS continues to do very well.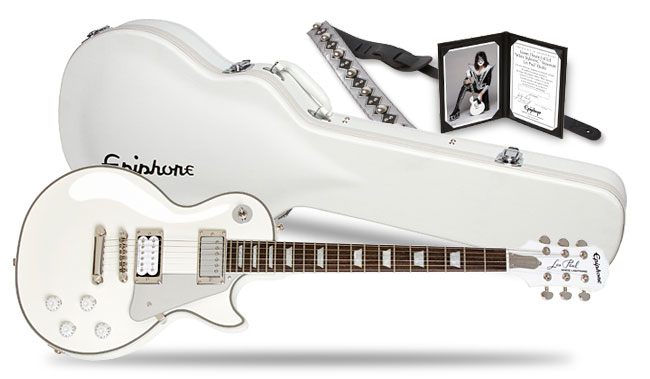 Today, you hear requests and critiques from fans around the world. What kind of feedback are fans giving you about KISS albums and performances? How much do fans influence the direction of the band?
KISS fans--the KISS Army--are hugely important to the success, the history and legacy of KISS. Many KISS fans are fanatics, which is the true definition of the word. How many bands fans cover themselves with tattoos of the band's image? When you look at a photo of the audience at a KISS concert, you immediately know it's a KISS crowd because so many wear KISS makeup and outfits at the show. No other band can say that. So often fans tell me this is their 214th show, or it's their 350th show. It's devotion like I haven't seen before, it's mind blowing. There's a lot of good but also a lot of useless information that filters through the Internet. I listen to what people are saying, but in the end I like to make my own decision or come to my own conclusion on things.
A lot of other bands have moved back to using analog in the studio and recording live. How does KISS work in the studio and has that changed at all during the time you've been part of the band?
When recording I like to keep it as real as I possibly can. Anymore, I feel like demos get in the way of getting the best master recording. Once you go down the path of recording a song the first time, you'll never get that same spontaneous feeling when you record it again and again. It even holds true when you do too many takes of one song. It's diminishing returns after the first two or three takes. We've used a recording system with Sonic Boom and Monster where you record the basic tracks to tape to get the warm, natural analog sound and that simultaneously goes to a digital format too. I've recorded with a combination of big and small amps on the last two albums but I swear I get the ballsiest and in your face tones with small amps. Recently I recorded with a Hughes & Kettner TubeMeister 18 watt combo with one 10" inch speaker and it sounds amazing.
When KISS is in the studio, do you mix up the instruments you work with? Do you ever say: "Okay, let's try something totally different and everybody play Epiphone Casinos!"
Most recording I've done with KISS I haven't got too far away from what's tried and true. Again, after 40 years we're not trying to reinvent the wheel. A good sounding Les Paul plugged directly into a great sounding amp does the job quite sufficiently. I have used SGs and an occasional Tele, but for the most part there's not a lot of experimenting going on with new technology and the hottest new digital gear. Now an Epiphone Casino might be worth trying, that's a classic.
At one time there was probably a lot of competition between KISS and --say--your friends in Def Leppard. Now, there seems to be a lot more camaraderie among the bands and their fans. Nostalgia might be good for business but competition is good for the music.
In terms of inspiration, I think everyone in the band has some of the same influences but on the other hand, I think we all have different things we like, too. I never realized it until I started noticing what each of us listens to in the dressing room when we're putting on makeup. Gene really likes older stuff like late 50s R & B and early 60s Top-40 pop stuff. Paul is more into late-sixties English pop and hard rock. Eric and I are probably more similar in taste and listen to early to mid-seventies rock and hard rock. I guess it's all a matter of when you grew up. I haven't had a better time on tour with another band than with Def Leppard. There was a great camaraderie between both bands that you don't always have on tours. Lots of good times and laughs, I hope we do more sometime.
What do you have planned for 2015?
2015 will be another big year for us. It will be more international touring than we've done in recent years. We were in Japan in February and early March, playing five concerts including headlining the Tokyo Dome. In April, were doing a stadium and arena tour of South America, which includes headlining Monsters of Rock Festival in Sao Paulo on April 26. In May and June, we're playing 15 concerts in Europe where we'll headline Germany's Grüne Hölle Festival on May 29, the Download Festival UK on June 14 and the Graspop Festival in Belgium on June 19. This fall, we'll continue with other shows that will be announced later. Of course, the KISS Kruise V is happening October 30th to November 3rd, which is always a blast.
What style of guitar do you play at home to keep limber and try new ideas?
More than anything I have a couple acoustic guitars at home that are easy to pick up and fool around on. In 1978 for a high school graduation present my parents gave me a 1964 Epiphone Texan acoustic guitar. As the years have gone on, that guitar has become more and more special to me not only because it's a collectable but because there's a lot of sentimental feelings with it. It's strange, but my life has come around 360 degrees. I would have never imagined back then--when just out of high school--that the company that built that classic acoustic guitar that my parents gave me would be making my very own signature guitar 30 to 35 years later. That definitely puts a big smile on my face.
Read our classic interview with Tommy Thayer here.